F1 2016 is a great sim racing experience on the PlayStation 4. Playing with a controller though doesn't even come close to the immersiveness you get from a steering wheel.
There are several racing wheels available for the PS4 ranging from $100 up to $1000. While I do love the high end super expensive racing wheels from Fanatec, there is a better option for your console that will leave enough money in your budget for a sim racing cockpit.
What You Need For a Great PlayStaton 4 F1 Racing Setup
If you are looking for an authentic Formula One sim racing setup you need a wheelbase, an F1 steering wheel, an F1 pedal set, and a F1 racing rig.
Mid-range racing wheels from brands like Logitech and Thrustmaster offer packages that come with a wheel and pedal set. However none of them come standard with an F1 rim, and some aren't mountable to cockpits.
Today I'll walk you through all of the pieces that you need for the ultimate F1 2016 racing setup on your PS4. Even if you didn't get all of these products, a wheel alone will make for a better racing experience.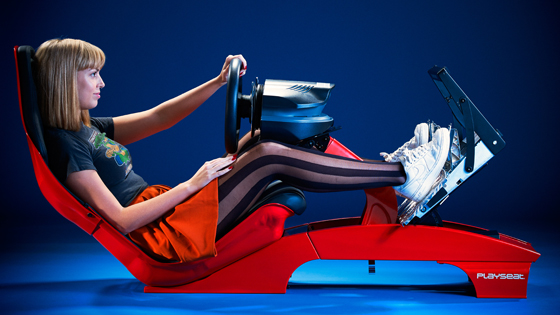 In the picture above this chick has a solid Formula One 2016 setup…only thing she doesn't have is an F1 Rim and Ill show you which one you need,
Thrustmaster T300RS Servo Wheelbase ($259)
The T300RS wheelbase is the motor you need to power your steering wheel. This is the piece that drives your vibration and forced feedback. The T300RS is well designed mid-priced servo base with contactless sensors, a dual belt drive, and a super quiet brushless motor.
The wheelbase does provide for up to 1080 degrees of wheel rotation, but for F12016 the game will default to 360 degrees for a more accurate representation of F1 racing.
The T300RS wheelbase is the core component of the Thrustmaster eco-system. It is made to work in tandem with several add-on rims (including an F1 rim), both the T3PA Pro and Wide pedal sets, and the TH8A shfter (which of course you wont need for F12016).
The T300RS is the motor that powers my most recommend racing wheel…you can read more about the Thrustmaster T300 Wheelbase here.
---
Thrustmaster T3PA Pedals – 2 Options ($100 or $150)
This pedal set comes in two different styles the Pro version and the Wide version. Both pedal sets play great with the game and come standard in F1 style (which means the pedal stantions come from the floor). Both sets have a throttle, brake, and clutch pedal and come with a conical brake mod which simulates progressive resistance.
The T3PA Wide Pedal Set is $100 and is suited for sim racers on a budget and are predominantly made of plastoc. The Pro Pedal Set, which goes for $150 and are made of all metal, have more options like a alternative spring brake mod and the ability to invert to the pedals GT Style.
For a Better F1 Experience Add a Loadcell Brake ($179)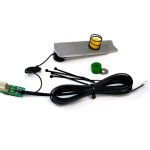 The conical brake mod is certainly servicable, but if you are looking to step up the realism and shorten your braking distances you can get a load cell brake. Adding the load cell will shave a few seconds off your laps. It adds much more of a race car feel to your braking because it is based off of pressure you place on the pedal as opposed to the distance you push the pedal.
You can get the load cell mod by itself and add it to your pedals or you can get the pedal set with the load cell brake mod installed you can read more about it on our sister blog Xbox Racing Pro. You can get the standard T3PA Pro's via the Buy Now button below.
---
Thrustmaster F1 Add On Rim ($150)
The F1 Add on rim from Thrustmaster is one of the coolest looking rims you can get. It was made to model the steering wheel used by the Ferrari 2011 F1 Racing team.
The rim features 8 working buttons, 3 switches, 2 d-pads, and 2 metal paddle shifters. When it comes to Formula 1 racing on your console there isn't a better add-on wheel rim than this one. It is a wide rim and feels pretty realistic in your hands. As far as force feedback and vibration go it is not my favorite rim, but it is fun to look at and adds so much immersion to your race experience. You can read more about the F1 rim here.
---
Playseat Formula One Sim Racing Rig ($1,400)
One of the most important pieces to add for the best F1 2016 setup is of course a Formula 1 style seat. This seat by Playseat puts your body in the perfect racing position to emulate an F1 cockpit with back reclined and your feet up. The seat comes in three colors black, white, and red.
Obviously this cockpit is really expensive so you could also consider GT style cockpits like the Playseat Evolution or the GT Omega ART. To check out the best racing chair for the F1 2016 game on PS4 click the link below to start your Formula One sim racing career.
---
What Does an Awesome F1 2016 Game Setup Cost?
If money wasn't an option and you wanted it all the T300RS wheelbase, T3PA Pro Pedals, F1 Rim, load cell brake and F1-Style Cocpit you would be spending just over $2,100. Thats a crazy setup, but a bit on the pricey side for me.
My best recommendation if you are on a budget and are looking to get a solid setup for the game would be to get the T300RS wheelbase, T3PA Wide Pedals, F1 Rim, and the Playseat Evolution. A setup like that would run you just under $1,100.
Its also worth mentioning that any setup involving the T300 will be compatible on your PC as well. That opens the possibility for you to play online racing titles.
PS4 Racing Products For The Formuala One 2016 Game
Have you played on an F1 2016 on the Playstation4 yet…If so what are your thoughts about the game?